This post may contain affiliate links, see
About Us
for details.
So you have a travel blog and are looking for a way to earn passive income or a bit of extra money. Good news, there are quite a few affiliate programs that are perfect partners for travel bloggers.
The top travel affiliate programs for travel bloggers and websites include travel agency affiliates and travel affiliate networks, as well as hotel affiliate sites, travel gear companies and airlines.
Online travel agency affiliate programs like Expedia, Tripadvisor and Viator can be a good way to make some income, especially if you create destination guides. Then your visitors can use your links to book everything from hotels, activities, flights and rental cars through one click.
By the way, if you are new to affiliate marketing I recommend first learning how to most effectively implement links into your site. It's not just about throwing some links and banners up there, to really make a great income you'll need an effective strategy.
If you would like to learn the ins and outs of affiliate marketing with plenty of other excellent tips for how to optimize your website then definitely sign up for the Making Sense of Affiliate Marketing course. It's one of the most popular online blogging courses for beginning bloggers who are in the first steps of monetizing their websites. Check it out now! You can read my review here and get the latest discount codes.
Best Travel Affiliate Programs 2019
Here are some of the best vacation affiliate programs for travel writers, vloggers and content creators.
Online Travel Agency Affiliate Programs
TripAdvisor and Expedia are two of the largest online travel agencies. Both affiliate programs are managed through CJ (also known as Commission Junction).
There are several Expedia affiliate programs to choose from once you sign up through CJ. Promote flights, hotels, car rentals or even cruises. The highest commission percentages are usually for the package deals or Expedia's preferred products.
TripAdvisor currently pays 50% of their gross revenue for each click out. This means if a visitor clicks your affiliate link then clicks a link on the TripAdvisor site to one of their partners you get a small commission. For example if TripAdvisor's commission is $1 you would get 50 cents – this is just an example.
Hotel Affiliate Programs
Hotels.com, Booking.com and Hotels Combined are three of the biggest hotel affiliates around. You can sign up for Hotels.com and Booking.com through CJ's travel affiliate network or directly. The downside with the hotel affiliate programs is that they don't use cookies so the visitor must make their reservations directly after clicking your links. However, the commissions are sometimes pretty good when a booking is made.
Hotels Combined pays a percentage of their commission from clicks to other booking sites. So for example if HC's commission is $1 you would get 50 cents. The percentage you get is based on whether the visitor actually books accommodations and what percentage of your leads generate revenue overall, but the commission per lead is usually $2 or less. Read my full HotelsCombined affiliate program review here.
Booking pays a portion of their commission on reserved accommodations. Usually the percentage is 25%. So if someone books a hotel room for $100 and Booking.com receives $10 commission, you would get $2.50. You do not receive commission if the reservation is cancelled which unfortunately seems to happen regularly. Commissions are also paid after the guest completes the stay and the hotel confirms the payment was made, which can take many months. There is also an earnings threshold of $100 before you get paid. Read my review of the Booking.com affiliate program here.
You can also sign up directly with hotel chains as an affiliate. Look for Hilton and Radisson Blu and Hotels.com UK on Awin for example.
Turnkey Vacation Rentals is another option for earning affiliate income on holiday accommodations. Sign up for their affiliate program through Shareasale.
I find that readers are shopping around when it comes to reserving accommodations and so these programs don't pay very well for me. However depending on your strategy and niche this can be the best affiliate category for a travel blogger.
Tours and Activities Affiliate Programs
Some of the most popular travel affiliate programs with bloggers are tours and activities. Companies like Get Your Guide, Viator, Klook and Tiqets offer a variety of tours which you can offer to your readers with text links and widgets. You can sign up for Viator's affiliate program through Shareasale.
As a tours and tickets affiliate you are either paid a percentage of the booking company's commission or paid an overall percentage of the sale price. Get Your Guide pays affiliates an overall commission percentage which varies depending on the volume of visitors who purchase a tour or ticket from your website. Tiqets pays a portion of their commission. It can work out to about the same amount, especially when you analyze it by revenue per click. Sign up for Tiqets on Awin here.
Choose which vendor you'd like to work with depending on the region your website covers. At this time Viator has the most tour options in the United States while Get Your Guide and Tiqets have a lot of offerings in Europe. Klook is popular in Asia. If you cover different regions you could test each program.
Want to promote food tours on your website? Check out the affiliate program for Eating Europe and Devour Tours in Spain. Find the Eating Europe program on Shareasale. Contact Devour directly to sign up.
You can also go with a vendor like City Pass that sells packages for destinations. Sign up through Shareasale.
Adventure Travel Affiliate Programs
If you cover adventure travel you might want to share general information about plane tickets and hotels as well as other resources like hiking boots, gear for climbing or lightweight backpacks. Look into affiliate programs with REI and other outdoorsy companies on the AvantLink affiliate network or Camping World on Awin.
G Adventures is a fun group travel company that has an affiliate program through Awin, sign up here.
And of course, you can also share information about group adventure activities and tours that can be booked on platforms like Get Your Guide and Viator.
Transportation Affiliate Programs: Planes, Trains, Automobiles
High paying affiliate programs include big ticket items like flights and cruises. Tradedoubler is the affiliate network for Skyscanner and Trainline, while CJ covers Expedia. If you have a certain airline you'd like to promote check their website to see if they have an affiliate program. (just Google something like "Delta Airlines affiliate" and see what comes up)
Some of them, like KLM and British Airways are managed through Performance Horizon, which is not an affiliate network but handles the payment and tracking programs for other companies.
You'll find Vueling on CJ, Qatar Airways on Shareasale, Lufthansa and easyJet on TradeDoubler and Emirates, Qatar Airways and Etihad on Awin.
If you'd like to promote car rental affiliates check out Avis and Budget on TradeDoubler and Europcar on Awin.
Up your Instagram game with this course from A Beautiful Mess.
Travel Gear Affiliate Programs
Do you want to share a review of your favorite suitcase or the best local guidebook? Then Amazon's affiliate network is probably the best choice for you. Amazon pays a small percentage of each sale you generate on the site. The commission amounts are usually quite low per sale so it helps to have good traffic to make this affiliate program really profitable. Gear review posts are usually the best moneymaker for this type of affiliate partner.
Luggage companies like Samsonite, Tumi and eBags also have their own affiliate programs. Check TradeDoubler and Impact Radius for more information.
Cruise Affiliate Programs
Many cruise companies have their own affiliate programs. Check the CJ network for cruise lines including Uniworld and Royal Caribbean. Take a look at Awin for P&O Cruises, TUI and Princess Cruises.
You'll also find cruise booking sites like Cruise Direct on CJ.
If you are looking for ferries, check Awin for DFDS and Stena Line.
Travel Insurance
One of the best travel insurance affiliate program I know of is World Nomads. You can sign up to be an affiliate directly on their site. Also check the program from Roam Right Travel Insurance, you can sign up via Shareasale.
To learn more about how to effectively implement affiliate marketing on your travel blog, check out the Making Sense of Affiliate Marketing course. It's one of the most popular online blogging courses for beginning bloggers who are in the first steps of monetizing their websites. Check it out now!
Do you want to learn how to monetize your travel blog or website and get more page views? Then check out Nomadic Matt's excellent Superstar Blogging courses.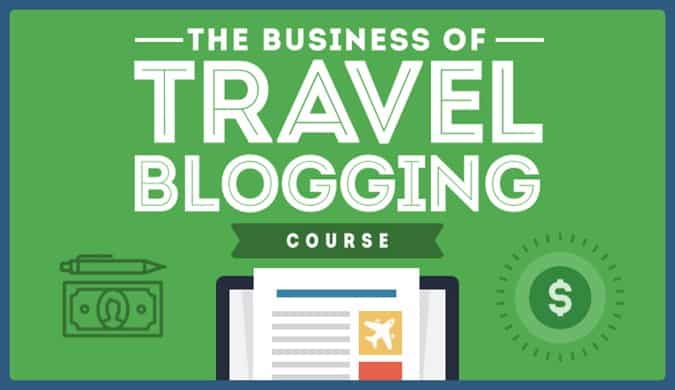 I hope this list of the best travel affiliate programs online helps you to monetize your travel website and add value to your readers.
Wanna learn to blog like a pro? Check out this blogging course from the awesome women of A Beautiful Mess.
You might also like these posts: